At GreaterGood, we do our best to raise awareness of good causes and to connect people every day with simple ways to make the world a better place. It is our charitable partners who do the heavy lifting — the ones who use the funds that your daily clicks and your shopping raise to accomplish the mission.
Funding for all charitable projects and partners is distributed by Greater Good Charities. Since GreaterGood began in 1999, we have given more than $80 million to charities operating here and around the world.
Greater Good Charities
Greater Good Charities
Grants funded by The Diabetes Site are paid by Greater Good Charities to charities and non-profit organizations working toward better treatments for diabetes. Clicking and shopping at The Diabetes Site helps support grants for the following charitable partner:
University of Michigan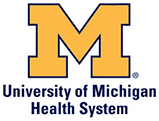 www.med.umich.edu/diabetes
The University of Michigan Comprehensive Diabetes Center brings scientists, clinical researchers, physicians, and patients together in a partnership to provide groundbreaking and compassionate patient care, remarkable innovations, and advancement in medical education. Through clinical studies, doctors and research staff learn more about diabetes and its complications, while investigating new methodologies and treatments. The goals of this research are to revolutionize patient care, improve quality of life, and ultimately — to find a cure.